Smoke trail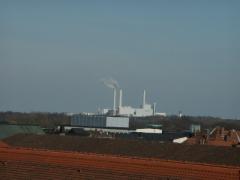 The weather was wonderful and sky was blue without a single cloud anywhere on Sunday, March 11, 2007. Don't know exactly what this is (allegedly a cogeneration plant) but leaving a nice smoke/dust trail, it was the only interesting thing around. Due to heavy zooming and windy conditions, the camera is moving slightly.
Time compression factor: 100
Fixed exposure.
Film: [1800kbit/s 640x480 FMP4, 7.3Mb]
Sunset over Munich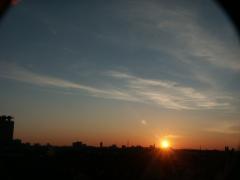 A beautiful Sunday without a cloud in the sky until the evening, so I tried to capture the sunset. The exposure was left variable but the focus was fixed (manual focus). During the film, one can see how the digital camera adjusts exposure (or image brightness).
Time compression factor: 400
Variable exposure.
Film: [1800kbit/s 640x480 FMP4, 7.1Mb]
Trying Some Clouds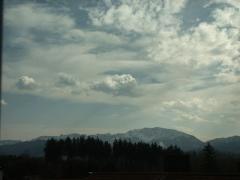 These are three different short sequences trying to capture the formation and movement of clouds. Conditions were not optimal but it's nice to watch anyway. This is probably more fun in summer when cumulus clouds build up.
Time compression factor: 375
Fixed exposure.
Film: [1800kbit/s 640x480 FMP4, 2.0Mb]